Arun Shelters is a Private Limited Company which got incorporated in the month of January 2005 and has its corporate office situated at R T Nagar, Bangalore. It is a company of builder professionals.
CORPORATE OFFICE: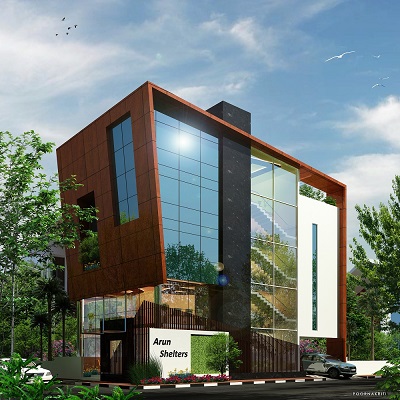 We at Arun Shelters have a team of Professionals(Architects & Engineers) dedicated to provide accurate guidance in the current situation to resolve the consturction / interior solutions according to the standards and to help Clients live their dreams.
One of the greatest assets of company is its people who mentor it. Mr. M Arun Kumar, Chairman & Managing Director of M S Developers, is the visionary who established this company. He has been the thriving force with immense vision and a renowned name with the builders' community who led to the creation of Arun Shelters Pvt ltd.
Success has always being a way of life with Arun Shelters. This success is owed to MSDevelopers, who entered into the foray of real estate, construction and land development activities. M S Developers has become the synonymous with the hard work, meticulous planning and honesty in its association with its customers. It is this quality that has given impetus to the growth of the company to its current and corporate position.
VISION:
"Build today what our clients need for the present and future with a passion towards perfection"
Arun Shelters has a pool of construction professionals, reputed architects and structural engineers who are involved in developing the projects which are embedded with quality and stringent procedures for checks.
The team at Arun shelters considers the views of their clients, understands the specifications accordingly and builds the projects as such. Arun Shelters wishes to be the wheel of progress for their clients as it believes that, to be successful first they need to have a serene home from where the project starts.
The basis of success of Arun shelters is purely on the skills of multi faceted professionals who are working together with them. The management professionals at Arun shelters are the people who have been in the industry for more than 2 decades. It is because of their ability the company comes out with high technical & aesthetic designed projects. Everyone at Arun shelters knows what is best for their clients & what to be executed.
ABOUT DIRECTOR:
" "Mr. M. Arun Kumar is the promoter cum Managing Director of Arun Shelters Pvt Ltd. He has experience of about two decades in this business line. Arun Kumar is the mentor of Arun shelters. His vision led to the creation of this company.Mr. Arun Kumar entered the foray of real estate, construction & land development activities. In north zone of Bangalore he created 10% of residential projects. "